Our ponies waiting to be sponsored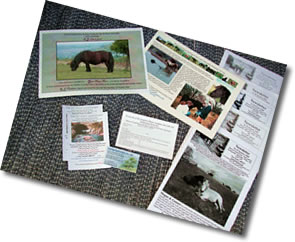 Please consider Sponsoring by Bankers Order Form here as the regular income help us budget for Vets, Farrier and Feed bills.
As a sponsor you will receive a A4 Full colour certificate with a picture of your chosen pony. Another A4 full colour information sheet about your chosen pony which will contain several other photographs. You will also receive previous  newsletters, subject to availability and a current one to bring you up to date with news of the Centre. You will be added to the mailing list to receive newsletters. A Gift aid declaration form. Some mini posters to put up on notice boards in vets, pet shops etc, near you. Plus any other relevant information available at the time.
If you are not able to set up a standing order, one off payments can be made below.
Personalisation of the gift certificate can be made by entering your text into the delivery details box.